Los Angeles Housing Trend Predictions for 2017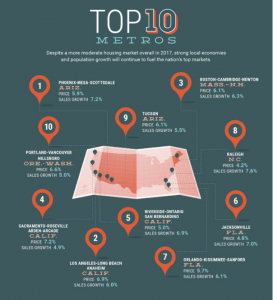 Real estate is local, and drilling down to the factors that shape regions, cities and neighborhoods add nuance to the national picture.
One of the latest 2017 housing predictions comes from realtor.com. It gives a macro take while sprinkling some metro-level texture (including the hottest region for millennials right now and where prices will continue to climb the most) into the company's demographic, market movement and economic expectations.
Realtor.com anticipates a slowdown period compared to the last two years, based on "the majority of economic indicators." A moderate national market with dampened price appreciation.
Specifically, the company expects:
-Home prices to increase 3.9 percent (compared to 4.6 percent in 2016)
-Existing-home sales to grow 1.9 percent to 5.46 million homes
-Interest rates to reach 4.5 percent driven by "higher expectations for inflationary pressure"
-The homeownership rate to stabilize at 63.5 percent after 2016's 63.9 percent low
-New-home sales to grow 10 percent
-New-home starts to increase 3 percent
However, the wild West Coast will continue to be a real estate hotspot with leading prices and sales.
Metros in this region are forecast to experience a 5.8 percent uptick in prices and 4.7 percent rise in sales, with top markets such as Los Angeles, Sacramento and Riverside, California; along with Portland Oregon; and Tucson, Arizona; leading the way.
Experts predict 2017's top 10 metros, noting "despite a more moderate housing market overall … strong local economies and population growth will continue to fuel the nation's top markets."
Source: Realtor.com